Company History | Mission Statement | Management | Company Brochure
Global Water Group, Inc. Mission Statement
This Mission Statement defines the goals and values of the Global Water Group. It guides us in all decision - making processes. We recognize that the relationships that exist between our customers and employees are an integral part of our success.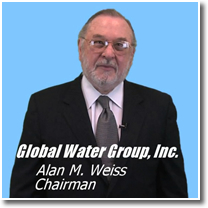 We were founded on the premise that by providing the best quality water purification we could save lives, reduce diseases, and improve the quality of life throughout the world. Our heritage is based on a commitment to our customers whose needs reflect those ideals and to the goodwill of the people involved in the final use of our products and services.
We are determined to provide our customers with quality services and quality products. We endeavour to communicate effectively with them and to become a caring part of their businesses.
We, the people of Global Water are the single most important asset of the company. Our hard work and dedication improves our quality of life and provides future opportunities for us.
We promote education, a safe work environment and research in our industry. We share information, listen to our customers, listen to each other, and are concerned problem solvers in an efficient manner.
We demand of ourselves the highest ethical standards. As good corporate citizens, we commit our resources to improving public health and environment.
We recognize that long-term commitments, the achievement of superior results and a reasonable return for our services are essential conditions for our growth and development. Our goal is to continue to be the very best water purification, clear water processing and environmental services company.
We are committed to providing the highest quality products and services in our industry through pride, teamwork and self-evaluation.
This is our mission.

Chairman
Company History | Mission Statement | Management | Company Brochure