How to Clean and Purify Water | Fresh Water Purification Systems | Fresh Water Purification for Municipal Systems | Download Fresh Water Systems Catalog
Fresh Water Purification Systems
For Small Villages Throughout the World
The following is a brief synopsis of Global Water' s proposal for providing potable water for various size villages and various levels of water purification production. The objective is to provide equipment that can be easily transported either motorized or by hand to remote and mountainous regions. The water sources are fresh water from rivers, lakes, streams, ponds, wells, or semi-municipal types of systems.
First of all, Global can meet all of the requirements as specified for the provision of potable water at every type of venue.
Secondly, Global' s experience with providing water purification equipment for U.S. Special Operations of the U.S. Military (Special Forces, Army, Air Force, Marines, Delta Force, etc.) gives our company a unique advantage in understanding these situations. We have specialized for over fourteen years in all types of water purification from backpacks to large trailered systems or even municipal systems. We have dealt with refugee camps or small emergency units or home use.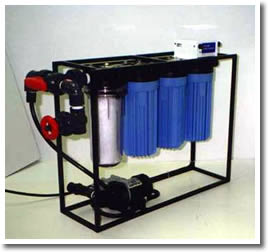 Multiple GLobal-LS3-Village-200E' s
The basic GLOBAL LS3-VILLAGE SYSTEM has three elements:
Filters for parasites:
(a) 5-Micron Filter
(b) 1-Micron Filter
Global' s proprietary Multi-Media Pod for removal of hazardous chemicals.
Ultra-Violet Lamp to kill bacteria and viruses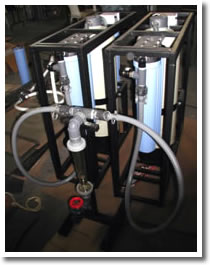 In this example, there are two of these units working in tandem. Each unit will process 10 gallons per minute (GPM). They are coupled at one end. 20 GPM total.
The water inlet pipe is to be connected to this end and the shore pressure from the city water will push the water through the system.
There is a valve to both restrict water flow and to turn off the water when you need to change filters.
Fresh water processing; FRAME ASSEMBLY suitable for lifting, placing on flatbed or ground; filter assembly: pre-filtering for silt, 5-Micron and 1-Micron for parasite removal; Global's LS3-Multi-Media system for removal of hazardous chemicals; Ultra-Violet assembly for killing bacteria and viruses; chlorine injection system for protection for holding water and redundant system for bacteria and viruses; floatation assembly for pulling source water; pressure gauges and flow meter with Global's electronic control box.
Global' s Unique Modular Platform Systems
Fresh Water Processing Systems
| | | | | | | |
| --- | --- | --- | --- | --- | --- | --- |
| MODEL# | GPM | L/MIN | GPH | L/HR | GPD | L/DAY |
| LS3-10GPM-Platform | 10 | 38 | 600 | 2,268 | 14,400 | 54,432 |
| LS3-15GPM-Platform | 15 | 57 | 900 | 3,402 | 21,600 | 81,648 |
| LS3-20GPM-Platform | 20 | 76 | 1,200 | 4,536 | 28,800 | 108,864 |
| LS3-25GPM-Platform | 25 | 95 | 1,500 | 5,670 | 36,000 | 136,080 |
| LS3-30GPM-Platform | 30 | 113 | 1,800 | 6,804 | 46,200 | 174,636 |
| LS3-35GPM-Platform | 35 | 132 | 2,100 | 7,938 | 50,400 | 190,512 |
| LS3-40GPM-Platform | 40 | 151 | 2,400 | 9,072 | 57,600 | 217,728 |
| LS3-50GPM-Platform | 50 | 189 | 3,000 | 11,340 | 72,000 | 272,160 |
| LS3-60GPM-Platform | 60 | 227 | 3,600 | 13,608 | 86,400 | 326,592 |
| LS3-70GPM-Platform | 70 | 265 | 4,200 | 15,876 | 100,800 | 381,024 |
| LS3-80GPM-Platform | 80 | 302 | 4,800 | 18,144 | 115,200 | 435,456 |
| LS3-90GPM-Platform | 90 | 340 | 5,400 | 20,412 | 129,600 | 489,888 |
| LS3-100GPM-Platform | 100 | 378 | 6,000 | 22,680 | 144,000 | 544,320 |
| LS3-140GPM-Platform | 140 | 529 | 8,400 | 31,752 | 201,600 | 762,048 |
| LS3-174GPM-Platform | 174 | 658 | 10,440 | 39,463 | 250,560 | 947,117 |
| LS3-184GPM-Platform | 184 | 694 | 11,023 | 41,667 | 264,550 | 1,000,000 |
System Options: (Quoted Separately)
Trailer
All Weather Housing
Generator
DC and Solar Power
Dolly Assembly
Anchor Tie-Down
Self-Cleaning UV
Sensor and Alarms

How to Clean and Purify Water | Fresh Water Purification Systems | Fresh Water Purification for Municipal Systems | Download Fresh Water Systems Catalog