Company History | Mission Statement | Management | Company Brochure
Global Water Group, Inc. Company History
Global Water Group is a manufacturer of state-of-the-art WATER PURIFICATION, WASTEWATER PROCESSING and WASTEWATER-EFFLUENT RECYCLING equipment for municipalities, military, disaster relief agencies, industry, remote villages, homes and new residential and industrial developments.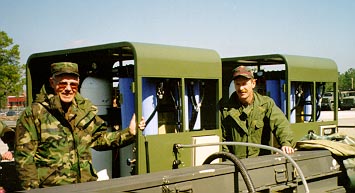 Since 1990, Global has specialized in mobile, self-contained and fixed base water purification systems for disaster relief and military use. Global units have been deployed on five continents, including Kurdish refugee camps during Desert Storm, Rwanda, Somalia, Haiti, Bosnia, Kosovo, Afghanistan, the Philippines and Iraq. Global' s systems have been distributed to over 16 African nations during project ACRI under President Clinton and currently with Project ACOTA under President George W. Bush. Global's systems have provided pure drinking water immediately after hurricanes Andrew, Iniki, Opal, Fran, Georges and Mitch, the floods in Mexico, the earthquakes in Turkey, Japan and the U.S., and many other natural disasters.
In 1999 Global created its Wastewater Division, bringing together over thirty years of experience of "aerobic processing technologies" (from the oil and gas industry) and Global's years of Recycling and Purification. By "re-inventing the wheel," Global was able to develop a wastewater system that doubled the processing speed of the industry leaders of the time; recycled all suspended solids down to 5-Microns; truly eliminating all organic sludge; and then purified the effluent to exceed current potable standards.
Global systems have been proven in industrial use, for recycling, for cleaner processing, for healthful wastewater effluent and for providing safe drinking water for employees in higher risk areas. Similarly, Global systems have provided clean, safe water for home use since 1991.
Global is in the business of solving the WATER problems for the next century:
Purifying water for drinking, cooking and basic hygiene,
Processing wastewater by eliminating the waste, and
Recycling wastewater effluent back to potability.
Water Purification:
Global' s water purification systems turn "bad" drinking water into "good" drinking water: from a single faucet to an entire municipality. These systems are the easiest to operate, easiest to maintain and are the most cost efficient.
Global's standard production equipment has varying power alternatives: all a/c electrical power sources, with many capable of running on d/c with solar options, as well as hand or foot pumps, shore pressure or gravity feed.
All of Global' s equipment is designed on a modular concept for both optimum processing efficiency and easy modification of system sizes. One modular system can process from 500 GPD to 500,000 gallons per day. Platform systems can be sized up to the tens of millions of gallons per day.
Desalination:
Global's DESALINATION SERIES is state-of-the-art for the 21st century. Global's MILITARY MOBILE DESALINATION SERIES provide a unique concept in utilization and can desalinate seawater up to 60,000 ppm. For municipalities, utilizing Global' s platform and modular desalination designs, systems can be built from 5,000 GPD to 100,000,000 GPD or more.
Wastewater and Wastewater-Effluent Recycling:
Global Wastewater's modular black-water and gray-water treatment unit utilizes a biological treatment process called "extended aeration activated sludge" process. These systems leave NO SLUDGE, have NO ODOR, are extremely simple to maintain and are very cost effective. Global' s modular Recycling System takes the wastewater effluent, recycles all suspended solids and then purifies the water in seconds. The output quality is potable (from sewage) and yet the combined wastewater-recycling process is more cost effective than the old fashioned standard infrastructure of just wastewater alone (with pollutants as an environmentally incorrect output).
Global Water Group includes a Water Processing Design & Engineering Division and a Home Water Systems Division, each offering expertise in those areas with engineers specializing in fluids and metals, as well as specialists in bio-chemistry and physics.
The benefits of using Global Water's systems:
Water Purification Systems

Exceed EU, WHO, International & U.S. EPA Standards
Finest quality drinking water
Easier to operate
Easier to maintain
More cost efficient

Other Tangible Benefits:

Reduce health care cost
Reduce illness for children and the elderly
Reduce death rates among children
Improve the quality of life
Create jobs
Create revenues
Provide capital for future systems growth

Wastewater Processing & Effluent Recycling

Exceed EU, WHO, International & U.S. EPA Standards
Eliminate the hazards and costs of sludge disposition
Eliminate the health hazards of sewage system overflows
Eliminate odor and other problems with waste processing
Eliminate the distribution of over-chlorinated effluent
Prevent the contamination of effluent runoff
Improve the quality of life

Create additional potable resources

Easier to maintain
Easier to operate
Cost efficient
Create additional jobs
Provide additional substantial Revenues
Create capital for further improvements

Infrastructure Repairs and Improvements

The tangibles are:

The cost of equipment and infrastructure
The revenues directly related for 20 or more years
Jobs
Create a better business community

The intangibles are:

Quality of life improvements
Meeting EU or other government standards
Health improvements and reduced medical costs
Company History | Mission Statement | Management | Company Brochure